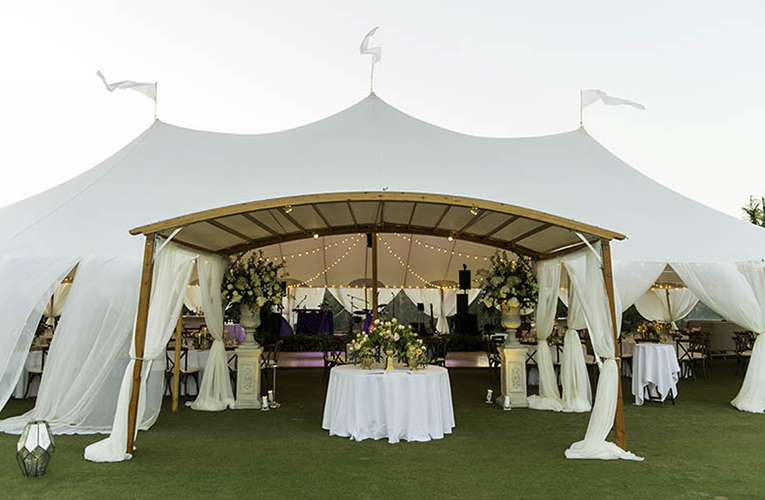 Sperry Tents
Each Sperry Tent is handcrafted by New England sailmakers to convey both elegance and romance. Waving pennant flags atop each peak, sweeping tent cloth panels, solid wood poles, and other classic details combine to complement any setting and fulfill every expectation.
Tent Sizes
At left is a comprehensive list of Sperry Sail Cloth Tent sizes. To determine the best tent size for your outdoor occasion, consider the use (seated dinner, cocktails only, etc.) and whether a dance floor or band stage is required. Each size with a blue tent icon is available in both ivory and our signature blue star design.
We can also arrange multiple tents for rehearsal dinners, raw bars, receptions, cocktails, and more. Our staff is happy to guide you and to schedule a complimentary site visit.
Create a Layout
Be your own party planner! Our new tent layout program is easy to use and online based – no downloads required.
16' Size
20' Size
20' x 20' Sperry Tent
20' x 40' Sperry Tent
24' Round Sperry Tent
24' Size
24' x 44' Sperry Tent
24' x 64' Sperry Tent
26' x 46' Pavilion Tent
32' Round Sperry Tent
32' Size
32' Sperry Tent
32' x 50' Sperry Tent
32' x 70' Sperry Tent
32' x 90' Sperry Tent
46' Size
46' x 105' Sperry Tent
46' x 125' Sperry Tent
46' x 65' Sperry Tent
46' x 85' Sperry Tent
64' Size
64' x 124' Sperry Tent
66' 106' Sperry Tent
66' Size
66' x 126' Sperry Tent
66' x 66' Sperry Tent
66' x 86' Sperry Tent
Bali
Bali Dome
Bistro Lights
Club Furniture
Crystal Chandelier
Dance Floors
Farm tables and chairs
Fly Connector
Full Floor
Heating & AC
Leveled Flooring
Onion Lanterns
Paper Lanterns
Pennant Flags
Perimeter String lights
Power
Rollout Flooring
Sidewalls
Twig Chandelier
Wicker Lounge Furniture